Berkshire Pigs
Premier breed of pork producers.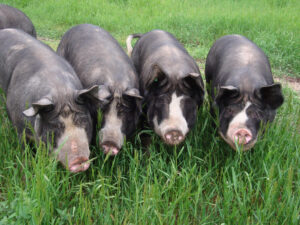 According to the Boston Globe, Berkshire pork is known as "Berkshire gold." Timothy Cebula, Globe correspondent, writes:
"Prized for its richness and depth of flavor, Berkshire pork is widely considered to be the Kobe beef of the pork world. A study conducted by the National Pork Producers Council in September concluded that Berkshire pigs top all other breeds in such categories as meat marbling, moisture, and tenderness."
We offer some of the healthiest pork we've ever found — and we are constantly on the lookout ! We never feed CORN, SOY, GMO's, antibiotics, hormones or any processed foods. Our pork is processed by Beck's Meats who uses only natural ingredients (no gluten, either) in our sausages, and smokes our bacon and hams using no nitrates (hence, the label "uncured"), no nitrites, no MSG and no funny business.
Steve has spent years researching nutrition to ensure our pigs have a nutrient dense diet on which they thrive thereby ensuring that WE thrive. In the summertime, the pigs rotationally graze on lush pastures. In the fall, they have their own salad bar. We plant a garden just for them that contains a variety of vegetables, like squashes, melons, and turnips. In the winter, we feed them apples, pumpkins, other squashes along with barley, field peas and hay.
Our pigs live in a very low-stress environment with ample space even in the winter. We never dock their tails or ring their noses. Piglets stay with their siblings until they are full grown. You should see how playful they are !